WW-Sonic toothbrush
WW-Sonic toothbrush provides optimum cleaning of the tooth surfaces and interdental areas inaccessible to traditional toothbrushes; effectively whitens and stimulates blood circulation of gums. Automatic switch-off function after 2 minutes.
CLEAN daily cleaning
WHITE whitening, removing surface stains on teeth, especially for coffee drinkers and smokers
POLISH brightening and polishing teeth, tartar removing
MASSAGE dental care with gentle massage
SENSITIVE special care for people with sensitive teeth and gums
5 BRUSHING MODES
48 000 strokes per minute
Provides 45 days working after one charging.
Waterproof
2-min. Autotimer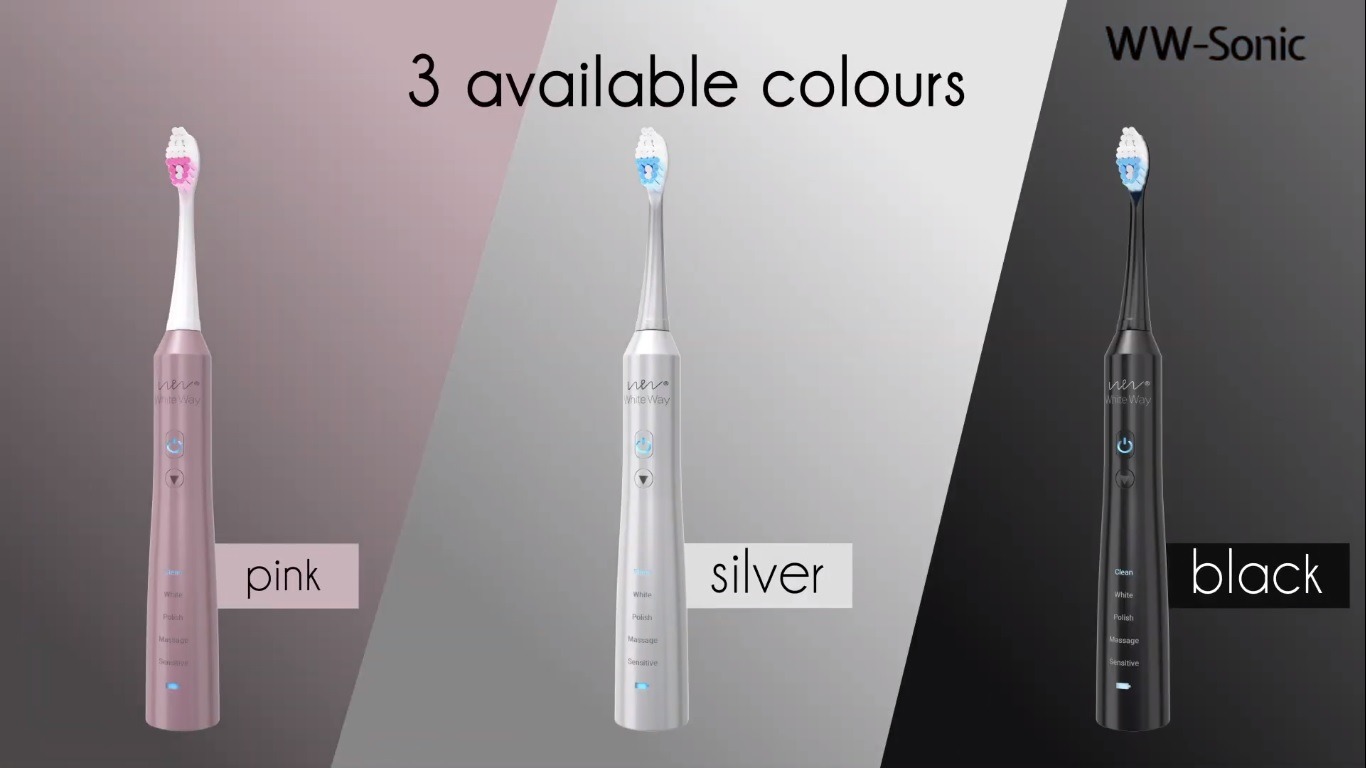 ADDITIONAL
INFORMATION
| | |
| --- | --- |
| Vibrations | 31000/41000/48000 min |
| Volume | ≤65 db |
| Working time | 180 min |
| Waterproof | IPX7 |
| Charging indicator | yes |
| Voltage | AC 100-240V |
| Product size | 50 x 75 x 247 mm |
| Included: |  Toothbrush , 2x brush heads, inductive charger , user manual |
Intelligently designed brush head
– Perfectly matched to the gum line, the brush head guarantees thorough cleaning of the interdental space.
-The specially designed front part of the bristles reaches the hard to reach places and the rear annular shape of the bristles effectively removes the coating.
– The ergonomic shape of the brush handle perfectly adapts to the hand, thus reducing fatigue during use.
The 2-minute signal reminds you of the dentist's time of brushing. A reminder pulse every 30 seconds to clean other oral cavities
Ultra long brush operation time on a single charge
– The rechargeable lithium-ion battery, 800 mAh, provides 180 minutes of brush operation.
– The brush is fully waterproof.
– Power consumption ~ 1.4W
– power consumption during standby <0.5W
– ErP Low-energy
– working power ~ 1.4W,
– standby power <0.5W
5 BRUSHING MODES:
Clean Mode:

for daily teeth and gums cleaning
[31,000 strokes /min.]

White Mode:

for removing surface stains. especially of coffee and cigarettes.
(41,000 strokes /min.)

Polish Mode:

to brighten and polish teeth, removes plaque and tartar
(48,000 strokes / min.)  highest strokes

Massage Mode:

for cleaning and gum massage
(31,000 strokes /min.)

Sensitive Mode:

for gentle care of sensitive teeth and gums
[31,000 strokes /min.]
– NOTE!  Replace the head brush every 3 months or sooner if signs of wear appear.