Superior Breathprene foam laminated durable 4-way stretch nylon fabric for greater cushioning and comfort.
Posterior contouring reduces bulkiness in the popliteal region.
Recommended for treatment of patella sprain, strain, subluxation, stress, tendonitis, bursitis, chrondomalacia, post-operation rehabilitation, joint inflammation and other knee injuries.
Anti-static, breathable, deodorizing and moisture absorbing.
Breathprene is an environmental and biodegradable PU foam with the specific of breathable pores, light weight, fair elasticity, skin-friendly impression, quick drying and moisture absorbent.
Breathprene laminated by Lycra lining which is composed of Talent Yarn consisting of silver and germanium for reflecting multi-functions of anti-static, deodorizing, negative ions, far infrared and comfort refreshing.
Posterior contouring reduces bulkiness in the popliteal region.
Two flexible springs reinforcements provide lateral and medial stability, facilitate better support throughout the range motion, restrict patella excursion without limiting the range of of the knee joint.
Two encircling contract closure straps provide easy adjustment and give additional support to the patella area.
Diminishes motion pain build-up, increase circulation, and retains body warmth.
Designed for treatment of patella-related problems and maximum support for the active sports participants.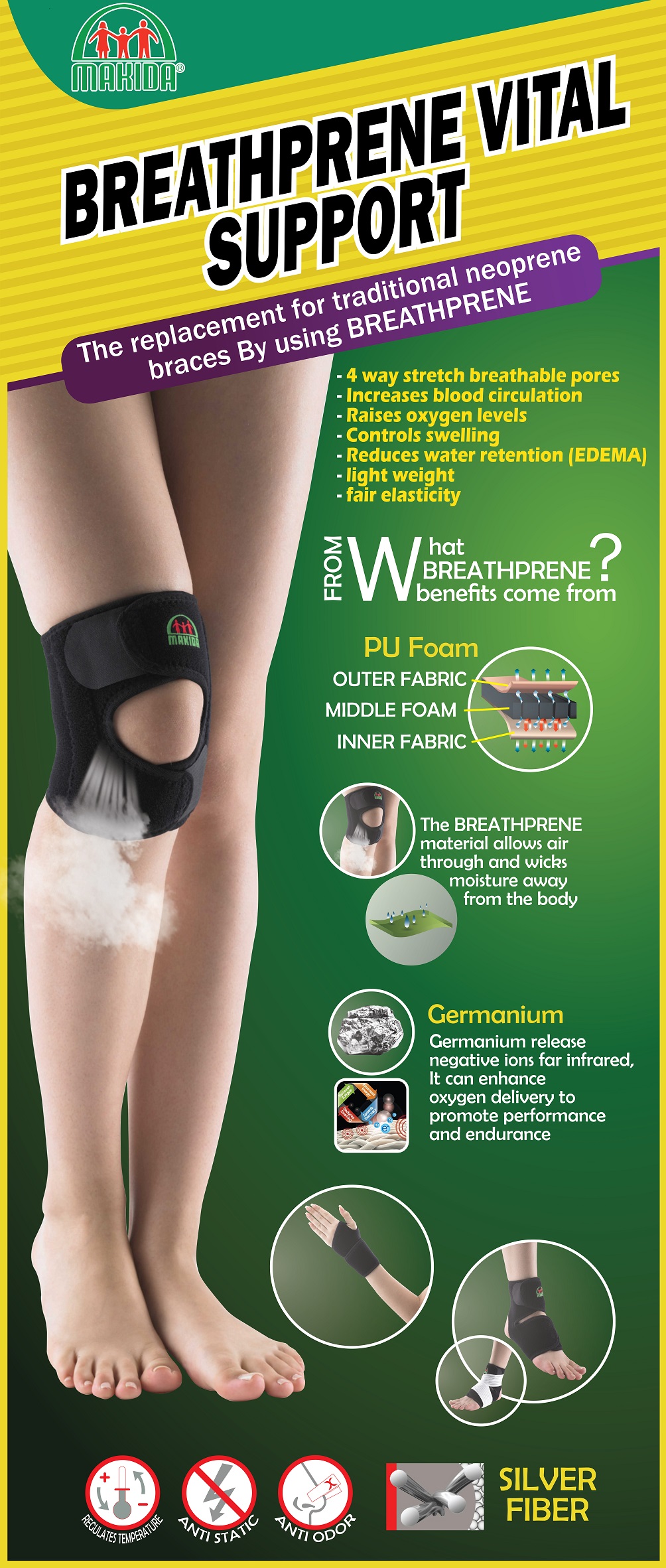 COMPOSITION  :
OUTER FABRIC:     80%  NYLON
                                 20%  LYCRA
MIDDLE FOAM:     100%  PU FOAM
INNER FABRIC:     90%  POLYESTER
                                10%  LYCRA